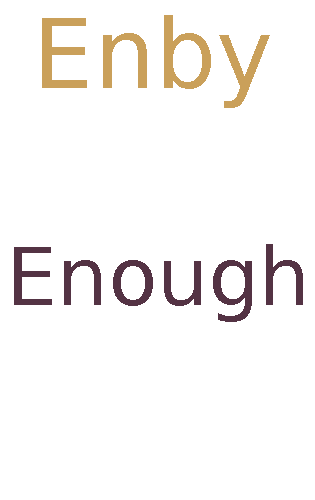 Enby Enough
Version 3 has been released due to critical mistakes that I made during the development process.
While I am an advocate for being spontaneous and how it can work wonders for the creative process, there are some subjects that should be approached with more forethought. I feel that the first version of my game did not handle its subjects with care and since that point I have done nothing but feel regret for how poorly I handled the explanations in question.
The game, in its current state, is a vast improvement over what was there before. I have made my tangents far more relevant to my beliefs, and have taken care to make sure they are presented in the exact level of detail I want. I have learned my lesson, and in the future I will ensure that I make no assumptions about the level of knowledge one enters my games with, especially in regard to marginalized and commonly-misunderstood groups of people.
If you have played (or viewed) the game in its old inferior state, I beg you to give the game another look so you can see what my true intentions with this piece were meant to be. Thank you very much.

Files
Enby Enough-v3.html
Play in browser
May 10, 2021
Enby Enough-v3-download.html
318 kB
May 10, 2021